Over the years, there have been so many great charities and non-profits that I've been fortunate enough to learn about and learn from. One of those fantastic entities is (RED).
Today, over 25 million people living with HIV have access to life-saving medication. AIDS-related deaths have declined by 60% since their peak in 2003, and the number of babies born each day with HIV has reduced by more than two-thirds since 2000, but there is still much work to be done, and that's where (RED) plays a big part, with that and navigating the new normal that is a global pandemic.
(RED)-funded grants support a diverse range of life-saving HIV/AIDS programs, including prevention, testing, counselling, treatment services, sexual reproductive health education, peer mentorship programs, and much more.

So how does (RED) raise the much-needed money to do all this great work? They partner with amazing brands to sell a (Red) branded version of that product, and over the years, they have had some great ones. From the super-popular Theragun to Yogurt, Durex Condoms to the seriously delicious Truff Hot Sauce, we've been there to cover it all, so when our pals at (RED) reached out about their latest collaboration, we, of course, had to share.
AM Denmark, the prize-winning, Copenhagen-based innovator within hand and screen hygiene, has entered into a new partnership with (RED).
Through the launch of an all-new campaign titled (GET CLEAN), AM Denmark now offers a collection of (AM)RED hand and screen cleaning products that will raise funds to fight pandemics with (RED). For every purchase of the (AM)RED collection, $3 will go to the Global Fund to help strengthen healthcare systems and fund life-saving programs in communities most in need.
Products available in this collection are:
(AM)RED Giant Screen Cleaner, which has the same refillable 2-in-1 spray, is the perfect product for you. The Screen Cleaner utilizes a microfiber cleaning cloth designed especially for your larger devices to ensure optimal visibility and, in turn, optimal productivity.
(AM)RED Mist Screen Cleaner is the perfect fit for all your everyday tech. The bundle includes a refillable and portable 2-in-1 spray and microfiber cleaning cloth that saves our planet from plastic waste, and with every (AM)RED product purchased, it also saves lives. The cleaning liquid is entirely non-toxic and alcohol-free so that it won't damage your most sensitive gadgets or your skin, even after repeated use.
(AM)RED Microfiber Cleaning Cloth, 3-Pack is safe for all screens and surfaces, such as phones, tablets, desktops, glasses, wearables, car screens, etc. It also does a great job of getting the grim and, most importantly, all the dust that can collect on your phone and phone case.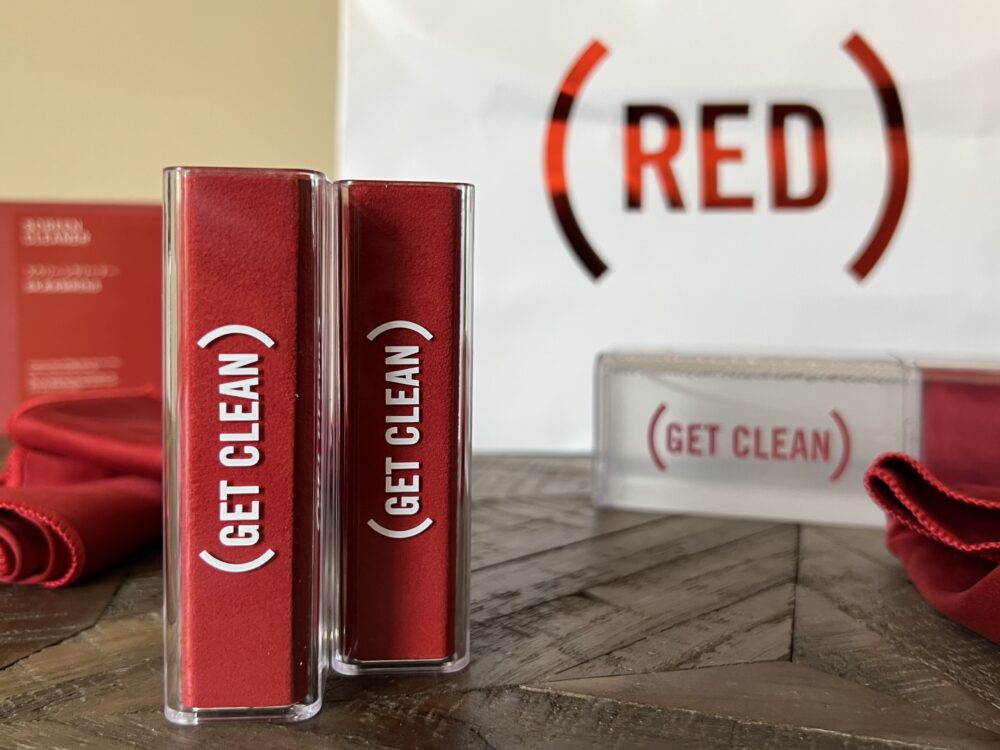 Not only are the Get Clean products helping to raise much-needed money for those in need and programs to assist them, but these products do a top-notch job of cleaning all your personal tech products while also helping to keep you and your family safe. Now that's what we call a win/win!
For more on (RED) this range and their entire collection of products and partnerships, visit the (RED) website today.