There are a ton of benefits to buying a used car, the biggest one being that you'll save a ton of money. But if you're a greaser, a used car may also give you the opportunity to fine-tune your auto mechanic skills and revamp a worn vehicle into a stylish, spruced-up one. Not that all used cars are in poor shape—some are in excellent shape, which makes the lower price tag all the more worthwhile.
The downside to buying a used vehicle is that many used cars are sold by private dealers. A private seller can be anyone. Most private sellers are good people who are just trying to get rid of their old vehicle and earn a few bucks doing it. But there are some people who may be using a car sale as a guise to lure you into a dangerous situation. This is definitely a nightmare scenario, but there are undoubtedly dangerous people out there that you should watch out for.
Thankfully, there are a few easy ways you can stay safe when you're shopping for a used car. Here's what you should do.
Meet in a Public Place
Before you buy a car, you need to give the car a test drive to evaluate the shape it's in and to see whether or not you like the feel of it. Never under any circumstances should you agree to meet the seller at their home. Always arrange to meet the seller in a public place where there are passersby. Consider this the golden rule of used car shopping.
Don't give in to any excuses, like "I'm running late today, would you be able to just meet at my house?" Always insist on meeting somewhere in public, and remember that a quality car is not worth risking your safety. If the private seller refuses to meet you in a public place, this may be a serious red flag. It's not at all an unreasonable request, and the seller's refusal may signal that they have unscrupulous intentions.
Buy from a Dealership
One of the safest ways to buy a used car is to buy from a used car dealership. Used car dealerships are just like new car dealerships, except they only sell used vehicles.
Dealerships have a pronounced business presence, like a car lot and certified staff, so it's much safer to visit a dealership than to arrange a meeting with someone you don't know. Buying from a dealership also has certain perks. Some dealerships do thorough inspections of each vehicle they're selling so you know you'll only be buying a quality car.  Dealerships may offer a "sell my car" program that enables you to make a few bucks off your old vehicle that you can contribute to the new one you're buying.
Don't avoid a dealership only because you're worried about the notoriously used car salesman. Just learn how to buy like a dealer: negotiate and don't be too overeager.
You can also go for the no deposit car finance option when buying used cars
Vet the Seller
If you're buying from a private seller, do your best to vet them before you make them an offer. Facebook stalking is A-OK, especially if you're doing it in the interest of your own safety! You might have a more difficult time vetting if you're replying to a Craigslist listing, but you can always ask for the person's contact information so you can leave a paper trail to the person you're buying from.
Take a Friend with You
Don't be afraid to take a friend with you when you test drive the used vehicle with a private seller. A test drive isn't a date—it's perfectly okay for you to bring a friend along, and the seller should understand that safety is a priority for you.
What's advantageous about bringing a friend is that you'll have an extra person to help you if the private seller gets pushy or aggressive (it's another nightmare scenario, but it's better to be safe than sorry).
Get the Vehicle Inspected
Make sure you get the vehicle inspected when before you buy it. After all, your safety will be compromised if you buy a vehicle that has serious defects. Always arrange to take the vehicle to an auto mechanic of your choosing. This is common practice when buying a used car, and any seller should accommodate you. If they give you a difficult time about it, it could be a red flag that the car is not in very good shape. If you want to be happy with the car you choose, don't skip out on making sure that it's in good shape.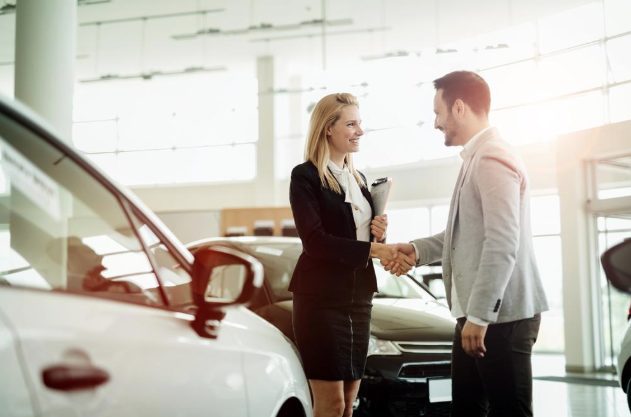 To be safe when you're buying a used car, follow the few simple guidelines we laid out. They'll help you get through the used car buying process safely, and you'll be cruising around in a vehicle you love in no time.