New research reveals that Toronto has ranked amongst the Top 40 Happiest on Earth. The Canadian capital came 7th place overall, scoring high in categories such as friendliest people and life expectancy.
Founded in 2013, iVisa.com launched with the goal of simplifying the travel documentation industry. Today, iVisa.com has served over 500,000 customers and expanded its product range to offer not only visas but health declarations, invitation letters, and passport photos, and they passed along some very interesting info we wanted to share with you.
iVisa's Happiest Cities to Travel index used 5 indicators of happiness to determine which city can guarantee a cheerful, carefree trip:
 The most amount of sunshine 
Cost of living
 Life expectancy
Friendliest locals
Weekly working hours
Although European cities dominated the top spots with Barcelona, Madrid, Athens and Rome all featured in the top 10.  The Happiest places to visit can be found in all four corners of the world, from Sydney to Toronto, Istanbul, Bangkok and San Jose.
The index also revealed , the sunniest place in the world is Las Vegas, boasting around 3,830 hours of sunshine per year. The biggest bang for your buck can be spent in Kanpur, India costing around £311.38 per month before accomodation.
Those in Hong Kong live the longest, a long life is assumed to be a healthy one, and a healthy life is a happy one. San Jose in Costa Rica has the friendliest locals, and people in Frankfurt spend the least amount of hours at work so, we can expect they're friendly too!
Garret Stembridge, Head of Content at iVisa says, "This summer, travel is expected to see the biggest boost since the beginning of the pandemic. Although travel restrictions still exist, they will be the most flexible we have seen since the summer of 2020, encouraging travellers and holiday makers to finally book flights for a well deserved trip.
"With travel expectations shifting considerably, we have designed the Happiness Index to help those travelling make a conscious decision on where to spend their summer holidays after a turbulent few years of confinement and restrictions."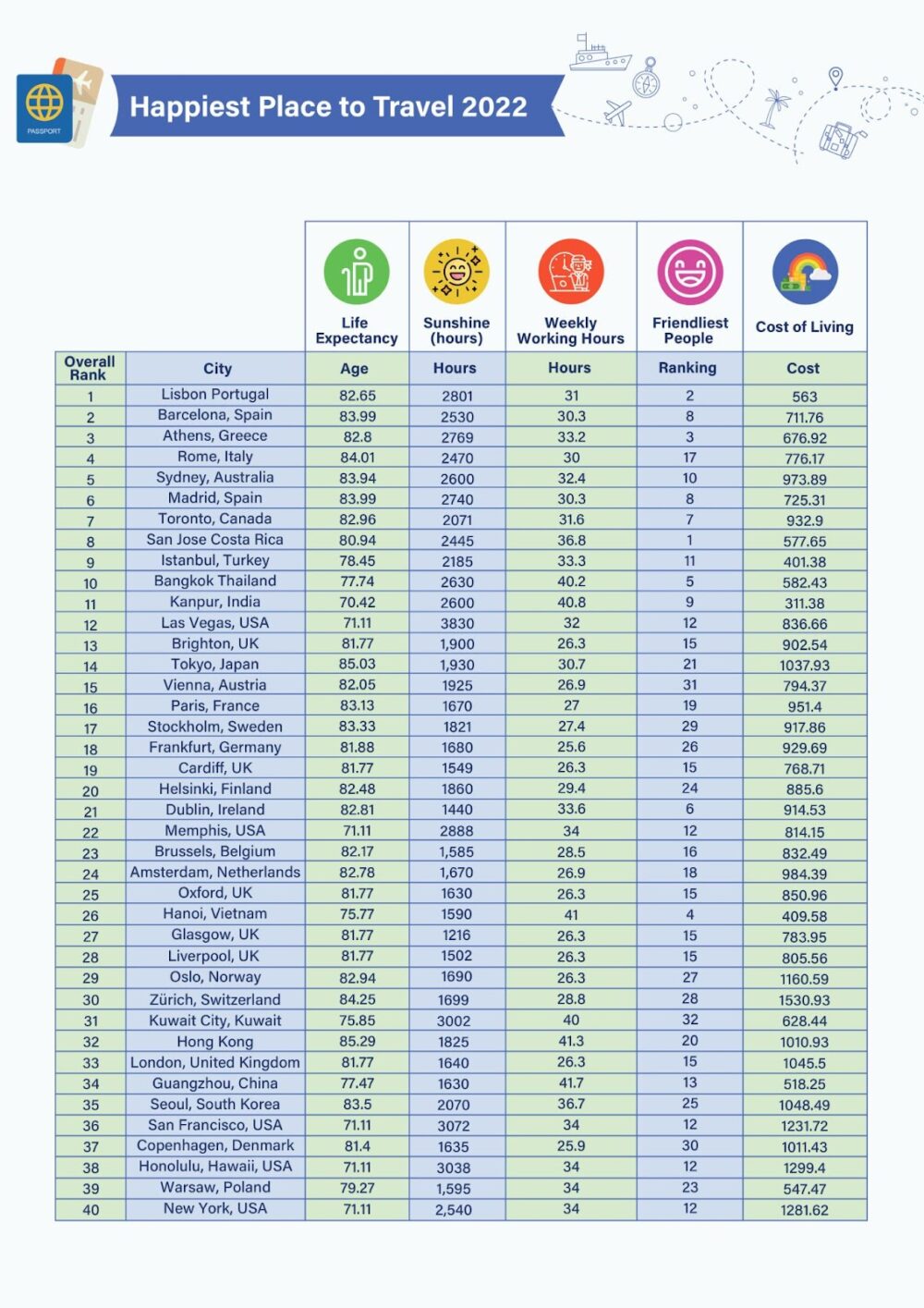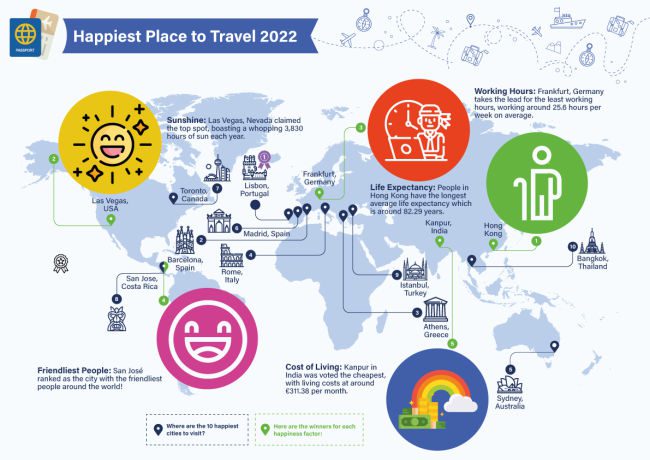 Methodology
Data for each happiness factor was sourced from the following:
Once all of the relevant data was gathered for each of our Happiness factors, a list of the top 40 cities that appeared the most frequently was then compiled.
Each city was then scored from 1 to 40 based on how it ranked for that specific factor. For example, 40 points to the city with the highest sunshine hours and so on. This was repeated for each of the five factors.
The overall happiness score was calculated as an average, adding each of the five happiness factor scores per city and dividing it by 5.