Working from home has become the new norm in recent years. With video conferencing, file-sharing and online project management now more popular than ever, there has never been a better time to ditch the commute. But the big question is how to set up your home office to allow for maximum productivity? Organizing a home office may seem like a daunting task, so here are six top tips to get you started.
Photo by Huseyn Kamaladdin.
A Dedicated Room
The biggest challenge many people have when working from home is finding a space to work in peace. If possible, you should set up your home office in a dedicated room where you can work free from any distractions. There are so many things in the home competing for your attention, from the pile of dirty dishes in the kitchen, the laundry that needs to be put away, or your kids who want you to play with them. It might be difficult at first, so have a conversation with the other people in your home and set out some ground rules for not disturbing you during your working hours.
Proper Desk & Chair
When you work at an office, health and safety measures are in place around good posture and choosing the correct chair and desk height. You shouldn't be stretching or straining, and your arms should be able to easily stay at a comfortable typing height to avoid repetitive strain injury or other forms of pain. Make sure that you invest in a good quality desk and chair; yes, it can be pricey, but the initial outlay will be worth it in the long run. Some companies will even subsidize your home office equipment, so be sure to speak to your manager about any help they can offer. 
Everything has its Place 
Organization is vital in the setting up of a home office. Everything needs to have its place and be to hand as it is required. If you have a lot of documents, it may be necessary to invest in a filing cabinet or erect a bookcase or two. If possible, you should make sure that the room isn't used to store other items, as clutter has a habit of growing exponentially if left unchecked. For smaller items, it's good to have receptacles such as these Leather Valet storage solutions to keep keys or stationery items in. 
Decorate Appropriately
Given that you are using the room as an office, making sure the décor is appropriate for the room's current use is essential. This would be especially true if the room was previously a nursery or child's bedroom; having an office decked out in unicorns or robots on the wall might be fun, but it could be a less than productive environment to work in. Neutral or calm colours are always a good option; you want to minimize distractions and be focused when trying to work.
Remove Distractions
Personal distractions are one of productivity's biggest challenges when working at home. Try to avoid having a TV or stereo present in the home office if you can. If not, then commit to keeping them turned off during work hours. Likewise, responding to notifications on your smartphone can eat up hours of your working day. You may well have to use a phone for your work, so if possible, have a dedicated work phone free of games and apps. If this isn't an option, set up focus mode on your device. You can customize your settings to block all notifications, except those from specific people or apps, and some even allow you to create prewritten responses to send to anyone who texts you.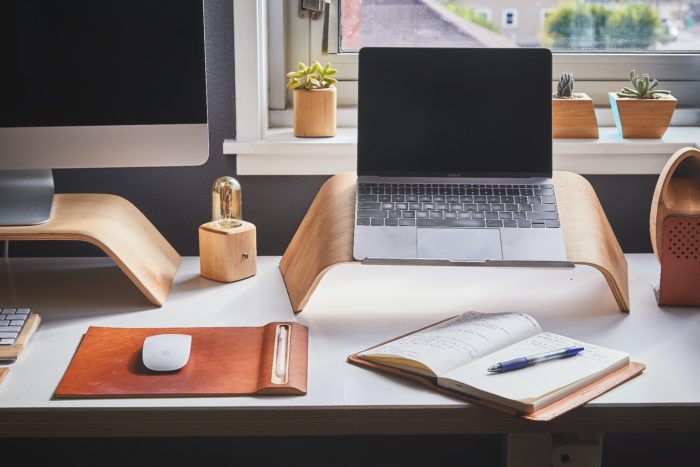 Laptop or Desktop
When setting up your home office, you need to decide if you want a dedicated desktop computer that stays in the office or a laptop that you can bring in with you when needed. Some work requires a large monitor or even several monitors, and this is particularly true of designers and anyone that works in visual media, such as filmmaking or photography. Many people prefer a more traditional desktop setup, with a separate keyboard and mouse as these can feel more comfortable to work with. That being said. if you only work part-time at home and need to go to the main office or visit clients, it may be easier to use a laptop so that you don't have to swap files over between devices. Or, if you work with particularly sensitive information, perhaps consider storing your work on a secure cloud.