I don't know what it is about candles, but I love them, the good ones, that is. It might be the scent, the warmth, the look, or maybe a mixture of all three. Either way, I've always felt that candles bring added warmth to any room.
Now, some like floral, others like vanilla. I love anything inspired by nature, the deep woods, and anything that minds me of a night under the stars in front of a campfire, so when I came across the rugged and refined line from candle-lite that featured mahogany, suede and woodsy notes throughout, I just had to get my hands on the collection and test them out for myself.
Refined Mahogany

As soon as I opened the pack, I became drawn to this scent. Deep, soulful, and woodsy, it makes you feel like you're on a hammock at the cottage watching the sunset, and you take a deep breath in, and the breath out leads you to a place of calm and relaxation. It's like comfort in a candle.
It burns for a long time, approximately 48 hours from the time-averaged out from our testing, burns clean and smells lovely, lit or not, without being overpowering. The coloured glass and 1800s letter label make it a great piece of candle decor to add to any room.
FRAGRANCE NOTES: Citrus, Woody, Spice, Cedarwood, Sandalwood, Musk.
Midnight Cognac
This candle reminds me of Christmas at my British grandparent's house. It could be the mix of dessert and patchouli in the air or the red berries from the seemingly endless supply of jam and preserves my nana used to make; either way, this candle brings back great memories thanks to this fruitful, fragrant candle. Mightnight Cognac is deep, vibrant and complex.
FRAGRANCE NOTES: Red Berries, Green Fig, Sun-Drenched Raspberry, Saffron, Red Rose, Jasmine, Patchouli, Oakmoss, White Musk
Oud Noir
Over the last few years, my partner and I have started making an annual event of spending some time over the winter break in the country in a cottage or cabin, and I love every moment of it.
This candle brings that all home with the crisp winter air, the beautiful snow-covered views, and the smell of cedar and pine. It brings that feeling of apple cider at the cottage enjoyed with those you love most; it doesn't get much better than that.
FRAGRANCE NOTES: Bergamot, Apple, Lemon, Pepper, Muguet, Osmanthus, Cedar, Musk, Vetiver, Patchouli.
Smoked Suede
My love of being fireside, camping and summers under the sun, with days ending watching the sunset, this candle does bring you right back to the feels of summer.
The rugged and refined do suit this candle. It's the perfect balance of the two in look and fragrance, so while I love the candles that remind me of Christmas, camping and the holidays, it's also nice to have a reminder of summer amid winter.
FRAGRANCE NOTES: Fresh Camphor, Spicy, Cinnamon, Cedar, Patchouli, Sandalwood, Amber, Balsam, Vanilla.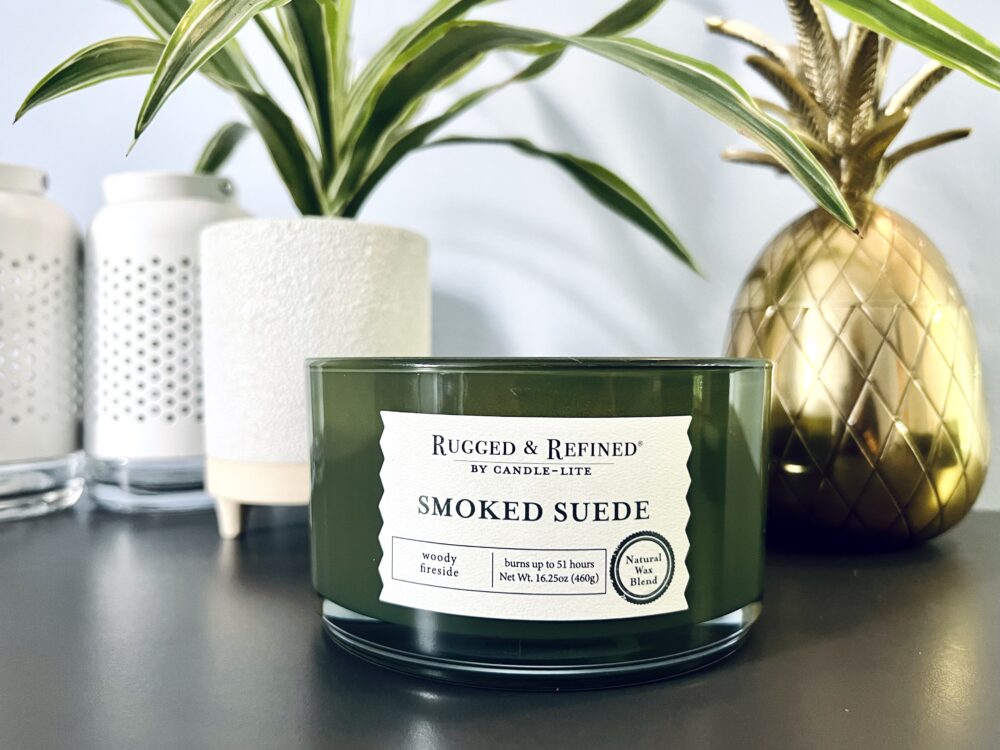 After Hours
The rugged and refined collection also has 9.7 OZ candles, aka smaller, but these also burn for a long time as well, about 45 hours from our testing.
Like the previous scents, we really enjoyed after-hours as well. The best description I could come up with is that it reminds us of a high-end barber shop. Musky, woodsy, fresh. I dig it.
FRAGRANCE NOTES: Fresh Air, Italian Bergamot, Spiced Lemon, Patchouli, Black Pepper, White Jasmine, Cedar Wood, Smoked Birch, Dark Amber.
Last Call
If you're looking for something even more refined, the last call candles come in a lovely black and copper bowl, which looks classy in any space, but with the fragrances of Bergamot, Mandarin, and Green Leaves, it also fills any room with a lovely scent, and a little bit of class.
FRAGRANCE NOTES
TOP: Bergamot, Mandarin, Green Leaves
MIDDLE: Cardamom, Jasmine, Rose
BOTTOM: Amber, Patchouli, Sandalwood
BURN TIME: Up to 52 hours
So, if you're looking to add a little extra style and a lot of great fragrance to your space, the Rugged and Refined collection is a personal fave.
To learn more or make a purchase, CLICK HERE.